Award winning journalist, presenter and author Mehdi Hasan on defeating extremism
Visiting Australia earlier this month, award-winning British journalist, author, and presenter of Al Jazeera's UpFront program, Mehdi Hasan, spoke to a sold-out audience on the issue of defeating extremism.
Words of wisdom
Hasan has been named as one of the top 100 most influential Britons on Twitter, and he is listed in the top 500 most influential Muslims in the world.
Speaking to an 800-strong audience at Western Sydney University, Hasan urged people to not be fearful of terrorism, as it plays directly into the hands of terrorists.
"Don't be afraid. You can drop all the bombs on Raqqa, but the best way to defeat terrorism is the refusal to be terrorised. Let's put terrorism into perspective, we exaggerate the threat. There's no doubt about the threat, but it's not an existential threat. Let's stop acting as though the biggest threat to our collective survival, to our civilization, is a small group of beheaders and hand-choppers out in the desert of Iraq and Syria," he said.
Hasan did however acknowledge that the threat of extremism is a real challenge and should not be underestimated.
"Let's not be under any illusions, these are big challenges. Now is not the time to roll over and accept defeat. It's time to unite with all faiths or none, because if not now then when, and if not us, then who?"
Hasan also argued against blaming religious ideology as the sole factor enticing people to commit terror attacks.
"Let us understand the ideology. Call it what you like, it is used as a cover for taking sex slaves, beheadings. It is used to justify killing Jews, Christians and Shiites.
We have to stick together; we have to have solidarity across religious, ethnic, gender, sexual preference and cultural differences. We have to promote multiculturalism because they (ISIS) love division and disunity."

– Mehdi Hasan
Religious ideology isn't what drives violence, it's an excuse…truth is they are opportunists, misfits and some are even mentally ill."
Hasan used the Sydney siege gunman, Man Haron Monis as an example.
"Man Haron Monis bought the wrong ISIS flag with him. He had to ask the authorities to get him the right flag. Let's not overstate ideology."
A celebration of multiculturalism
Hasan told the crowd that Australia should be the envy of the western world due to its celebration of multiculturalism and its history of successful integration.
"Australia has the potential to be a beacon in this era of seeming despair and darkness. Yes, your country has an ugly and largely unresolved history with racism and discrimination both towards non-white immigrants and Aboriginal peoples … but you're also a nation in which Muslims have thrived and succeeded… There are so many success stories to do with Australia's history and story of multiculturalism and integration. Even your current conservative government wrote it is the most successful multicultural in the world."
Hasan warned against feeling despair during difficult times.
"Don't buy into the derogatory and defamatory words of the (far) right wing. Don't buy into their divisive and hateful campaigns. The truth is, in the international scene, multiculturalism has been largely successful in Australia."
The 'blessed ban'
Hasan said far right-wing extremists are helping ISIS to promote its cause.
"Be consistent, focus on all types of terrorism not just 'Muslim' terrorism. Anti-Muslim bigots have become recruiting sergeants for a group they claim they hate and profess they want to destroy. They are ISIS' useful idiots. It helps ISIS' narrative of the West versus Islam."
Hasan said community solidarity and cohesion is one of the key factors in defeating extremism in all its forms.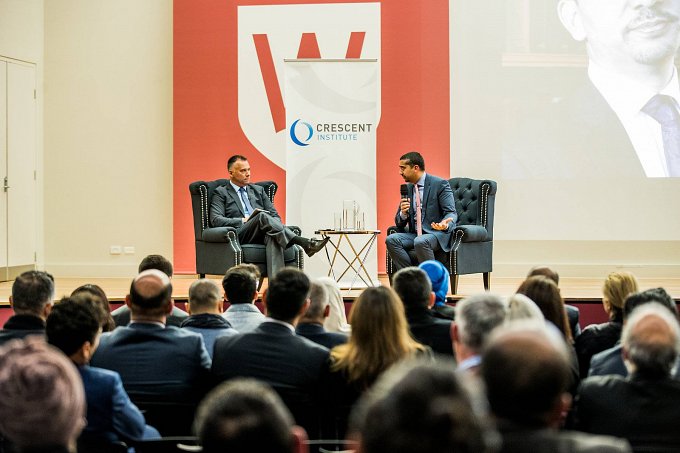 Mehdi Hasan in conversation with ABC's Stan Grant
"ISIS members online call Trump's Muslim ban the 'blessed ban'. ISIS wants to drive a wedge between Muslims and non-Muslims. ISIS want to destroy the grey-zone… We have to stick together; we have to have solidarity across religious, ethnic, gender, sexual preference and cultural differences. We have to promote multiculturalism because they (ISIS) love division and disunity."
Addressing a mainly Muslim audience, Hasan also said if the Muslim community wants to make allies, it needs to express unity with all minority groups.
"We need to embrace other marginalised communities, for example, the indigenous community, LGBTQI, refugees. Be there for them when they are under fire."
"How can we as Muslims expect others to stand with us when we are facing bigotry, persecution and discrimination, if we don't stand with them when they face bigotry, discrimination and persecution? If we want to defeat extremism of all types, we have to stick together…we have to focus on what unites us not what sets us apart."
A complex problem
Hasan argued that there was no single method for defeating extremism and warned against simplistic solutions.
"Whether it's the left who say if we just change our foreign policy, stop the bombing in Muslim majority countries, or stop supporting the Israeli occupation, all would be good in the world, (or) those the right who say if Islam would just have a reformation, if these Muslim refugees would stop coming onto our lands as sleepers, then we would have a great utopia. I think those are very simplistic approaches on both sides. I think we need a much more holistic approach."
Hasan said the Middle East does not represent Muslims and Islam, arguing for home-grown leaders and community infrastructure to help Muslims living in the West establish their own identity.
"It's important that we develop our own leaders, our own models, our own institutions, organisation and gatherings so that we don't have to turn to our immigrant parent's country of origin, or towards sheikhs the Middle East," he said.
"I speak for myself when I say this, I would much rather be a Muslim living anywhere in the West than a Muslim living in any of the dictatorships we mentioned in Middle East. I can practice my religion freely. That's a tragedy to the Muslim world... We benefit from these freedoms, if we don't stand with them then who will stand with us?"
The Point
Mehdi Hasan on defeating extremism
Author Note
Images: Crescent Institute