Pepe the Frog and the rise of alternative-right memes
'Pepe the Frog' began as an artist's meme. He rose to become a symbol of the "alternative-right" during the 2016 Trump election campaign, and he has featured in Marine Le Pen's National Front campaign in France. Professor Andrew Jakubowicz, a sociologist at the University of Technology, Sydney who is currently leading a research project on cyber racism and community resilience, believes 'alt-right' groups are using memes, such as Pepe the Frog, to normalise racism, promote hatred, and influences political sentiment abroad and locally.
"The effect (of memes) has been to routinise alternative right power and racism... The rapid multiplication of memes spread are destructive… This is serious business with real consequences, and the normalisation of hate speech is the biggest threat," said Jakubowicz.
Who is Pepe?
Pepe the Frog was born in 2005. His creator, artist Matt Furie, drew him along with a host of other characters Brett, Andy and Landwolf as part of the comic Boy's Club. Partly due to his bloated features and disgruntled face, he began circulating on bulletin board 4Chan and bodybuilding sites, followed by a feed that was created on Instagram with pop celebrities like Katy Perry, Niki Minaj re-tweeting his image.
"Racism has to be identified, called out, and pushed back against. It permeates cyber space, and has become taken for granted. It requires systematic pushback – it undermines internet democracy."

– Jakubowicz
"There is debate about how Pepe became a figure of alternative right; he gravitated towards 4 Chan contemporary bulletin board with alt-right /POL/ (politically incorrect board) and when it moved there it became Pepe's home… It long escaped Furie's control of the image. It sat comfortably with an emotion that was popular at time. 4Chan is made up of people with dark and angry sense of humour, a desire to see people hurt, and interested in winding people up – troll personalities. Pepe became useful, he became appropriated by alt-right," said Jakubowicz.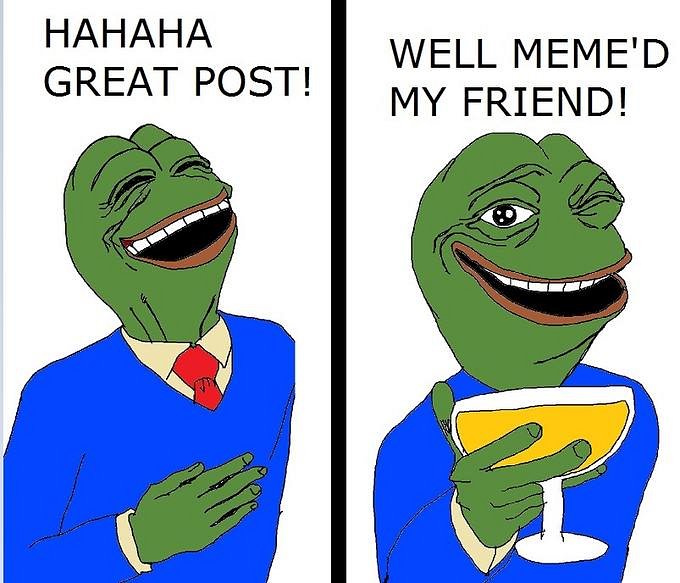 Pepe and the alt-right movement
The association between Pepe and the alt-right grew so strong that the official Hillary Clinton website had a page on him, and he appeared on CNN in a discussion about alt-right and white nationalist imagery. Trump re-tweeted images of himself with Pepe's facial features.
It is unclear whether politicians are endorsing ideological messages, but it is having broad implications.
Jakubowicz said most far-right politicians now see this as added value. "For right-wing politicians, they now have a spectrum where racism is being normalised in the environment."
Trump re-tweeted images of himself with Pepe's facial features.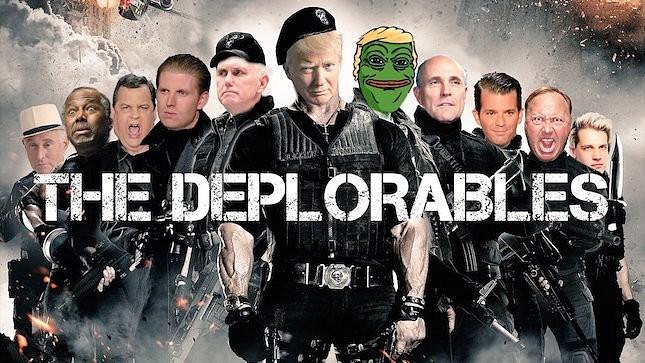 In response to a comment by Hilary Clinton, calling Trump supporters 'deplorables', Donald Trump Jr. posted a photoshopped movie poster on Instagram of the 2010 action film The Expendables, which features various prominent conservatives and Pepe the Frog with the title "The Deplorables"
Closer to home
Just last month in Australia, Queensland tradesperson Mr Hickey emerged as the sole corporate sponsor of one of the world's most popular neo-Nazi websites, drawing condemnation from a Jewish civil rights organisation. His logo was Pepe the Frog wearing an SS uniform and standing in front of Auschwitz. Andrew Anglin of the neo-Nazi website, Daily Stormer, claimed to have engaged Mr Hickey's company, as a corporate sponsor. In his defence, Mr Hickey referenced Donald Trump's claim the media was the "enemy of the American people."
"The skin that sits between alt-right in Australia and the US is so thin…It's all weaving together now. The task (of neo-Nazi sites) is to normalise anti-Semitic racism in Australia. Some groups have been criticized by supporters for not being anti-Semitic enough and deviating into anti-Islam," said Jakubowicz.
"Fantasy and reality came together in follow up to Trump elections when Richard Spencer (Neo Nazi and white supremacist and the coiner of the phrase 'alt right') was attacked in street by an Antifa (anti-fascist movement) member and was beaten. At the time, he was wearing a Pepe the Frog lapel badge."
Jakubowicz said visual imagery has a political impact. "The images in memes create spaces which are full of potential meanings; the words then pitch the meaning towards the intention of the creator."

"What we see coming together is those who want to spread anti-Semitism and hate against Aborigines and Muslims, with trolls who want to 'game' people and demonstrate their power to intimidate and harass. Whenever they come against restraint from government or from social media platforms part of the game is to move around and find new ways."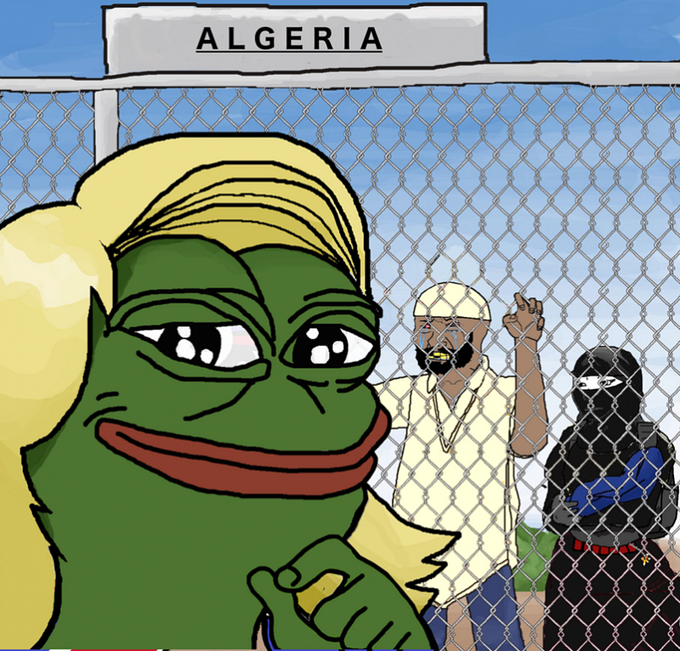 Alt-right groups are now memifying Marine Le Pen presidential hopeful to resemble Pepe the Frog.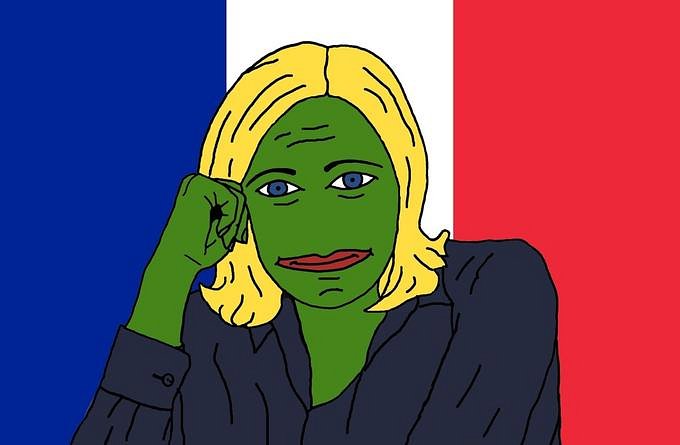 Marine Le Pen's National Front
Meme created by Jakubowicz in response
It is an ongoing challenge to counter the impact of these sorts of messaging and there are currently few effective anti-racist memes.
"There are all sorts of theories why that is – the development of anti-racist memes is hard. One company (Facebook) is trying to run workshops to create alternative memes for internet as pushback. This space is filled with Neo-Nazi stuff. There is little psychological space to think about alternatives. You are battered or withdraw –and become wounded. Many people report being psychologically damaged by their sense of pain and isolation. The opportunity is there but the capacity is eroded. People are not feeling capable of standing up for their own identity in such an unprotected environment."
Where to from here?
In Australia, there are limited laws and protections to deal with hate speech and cyber harassment. Jakubowicz is thankful Section 18C of the Racial Discrimination Act survived the onslaught against it by forces, including the alt-right. Even so the responsibility often lies with the social media platforms, like Twitter, where you can report offensive content and it will be blocked from the user. But the content can remain live on the internet.
Jakubowicz said there a few tactics we can employ as individuals, including supporting existing organisations, such as the Online Hate Prevention Institute. "Only by monitoring and understanding the dynamic of this stuff can we get our head around strategies of resilience."
"We need to look at the creation of affirmative safe spaces. These need to be fun, interesting, intellectually exciting and artistic and create the same sort of bounce – but an affirmative one – that racists already know how to do with the hate they peddle"
"Another thing we can do is to find stories, podcasts, interviews, interesting lives and systematic evidence-based models about what we want to achieve. Move people into a space that they feel competent and confident to stand up and create as their own."
"Racism has to be identified, called out, and pushed back against. It permeates cyber space, and has become taken for granted. It requires systematic pushback – it undermines internet democracy."
The Point
Pepe the Frog the rise of alternative-right memes