Trump and the symbolism of borders
In January this year, I attended a conference program in Mexico with writers, editors and journalists from Mexico and the United States. While I was there, Trump's inauguration took place, and the election, along with his proposal of a multi-billion-dollar wall spanning some 3000 kilometres along the United States-Mexico border, triggered emotional responses from both sides of the political spectrum.
The events in the US, while vitally felt in Mexico as a neighbouring country, affect all of us as participants in a global economy and reality. The topic of this conference looked at how we can consider the wider concept of borders; what are our personal experiences with borders and how do they serve us in the literary, public, and political imagination.
Although this wall has loomed large in contemporary political discourse, the border as a physical, cultural, and symbolic presence is nothing new. One young journalist who works for an online Mexican human rights publication, Piedepagina said, "The wall already exists in Mexico. Everyone is acting as if this is new. But you can go and see it now; it is already a fact."
Former US President Bill Clinton built a 500-kilometre fence along the border between California and Mexico in 1993 to disrupt human and drug traffickers. Mexican cartel violence has been a significant issue as it has spilled over the border due to the lucrative smuggling business.
"How do we find a way to talk, write, and understand our collective responsibility as we build and manifest symbolic walls around us?"
Despite the fact the wall has existed for some time, it was used in the current political campaign to become an early rallying cry for Trump's supporters, during which he described many Mexican migrants as "rapists" who were "bringing crime". The wall has taken on a symbolic value in debates around immigration and security and it sends a strong message about what sort of nation America is, and who it allows to enter.
This is despite figures release in 2016 by US Department of Homeland, which shows the number of people attempting to cross the US-Mexico border has fallen over the last 15 years. Pew Research Centre analysis shows that since 2007, the total number of Mexican immigrants in the US has actually been on the decline.
The journalist showed us images of what is already the most talked-about stretches of fence in US politics – a fence that traverses mountain, desert, urban landscape and ocean. On one end, the border meets the Pacific Ocean, and extends into the crashing waves. South of the border, the wall is in the Sonoran Desert, where California, Arizona, and Mexico meet.
Tours are conducted along the existing fence to show people what it is like to walk along the structure and to highlight some of the methods used cross the border, and to keep Mexicans out. For instance, along the desert stretches, any water that is left out for would-be border crossers is tipped out by border security.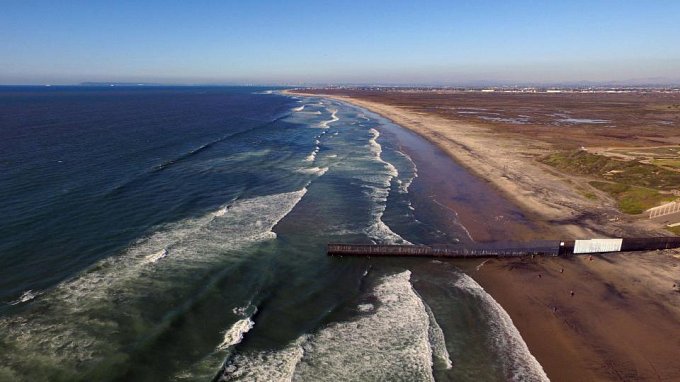 The US-Mexico border meets the Pacific Ocean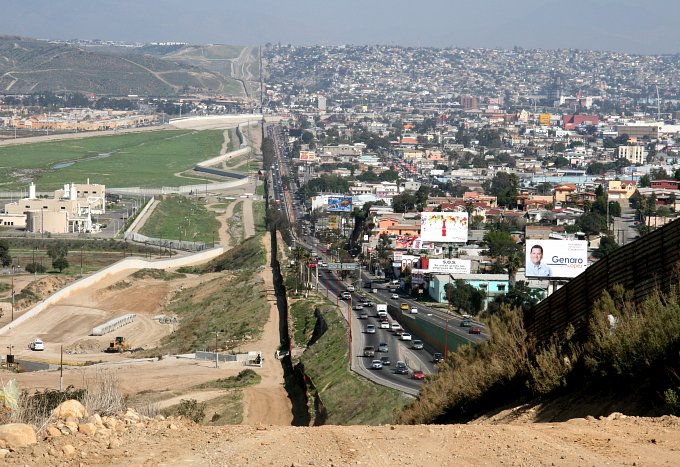 Mexico on one side and USA on the other
The wall itself has already been the inspiration for many political and artistic resistance movements – both past and present. Almost 85 years ago, Frida Kahlo painted a self-portrait straddling the then border, in which she is being torn between the Aztec ruins of her homeland and the industrial cities of the US.
In protest at the existing US-Mexico border-wall, three-person New York collective, Postcommodity conducted interviews with Department of Homeland Security community liaison officers. They learned that the night vision goggles worn by border patrol officials give a greenish glow, which are often mistaken by indigenous migrant groups for mythological demon creatures. Their works shows how indigenous belief systems can be exploited against them in modern contexts.
One editor and freelance writer in Mexico City said, "when you talk to one out of three Mexicans, they will have a story about migration for you, and about their treatment. Everyone has a relationship with the United States. But the treatment differs acutely whether you are entering the country by air or land."
For countries in modern history, like Mexico, and Germany, we have seen the literal construction of borders in the form of walls. As for Australia, an island country "girt by sea", we don't have land borders that people can simply walk across. Growing up, I always thought one of the reasons my own family came to this country, and the reason Australia was called the 'lucky country', is because Australia is essentially a remote island. We have never had to deal with the strife of border-crossings on the scale experienced today in Europe and the Americas.
Of course, Australia does not have walls on its ocean borders, but we do have Operation Resolute, Maritime Border Control, and offshore detention centres. Our country, like Mexico, also knows how different modes of travel – by air or boat – can have a different bearing on the collective imagination.
Many of the local Mexican journalists I met were concerned with inverse power relations within their country's own policies of border control, as they are dealing with refugees fleeing the humanitarian crisis south of their own border, in the Central Americas.
As significant numbers of Syrian and African refugees risk their lives crossing the Mediterranean Sea to escape their war-torn states, advocates say a parallel refugee crisis has unfolded on America's doorstep amid an undeclared but increasingly brutal war between criminal groups and security forces from Central America. There is growing widespread violence in Central America's northern triangle (El Salvador, Guatemala and Honduras) considered the world's most dangerous region outside an official war zone.
If Trump's border wall does come to fruition, it will be more symbolic than functional, but it will send a strong message to a world that is already grappling with a broader humanitarian crisis and how to deal the mass flow of people.
How do we find a way to talk, write, and understand our collective responsibility as we build and manifest symbolic walls around us? One thing a wall can never account for are the invisible and strengthening ties that bind the people, communities, across oceans and nation lines.
The Point
The Point Magazine's editor Kavita Bedford reveals how Mexican journalists and writers are covering Trump's "great wall" project and explores the broader symbolism of borders for us all.