Safe Spaces for Taboo Talks
Bankstown local and youth advocate Amirah Amin has been looking for some years now to find a "third space" to hold difficult conversations. She says that social media has taken over opinions, creating information silos, and that hatred is getting in the way of shaping meaningful conversations.
"It is more important than ever to find a way to reach out and talk with people of different or conflicting opinions and experiences."
Taboo Talk is the latest initiative to bring back face-to-face conversations that deal with awkward and dividing issues, in real time. It was launched last January at the Sydney office of Google and will happen monthly at Vibewire, a creative co-working space in Ultimo.
"It is more than just a meet up or event, I suppose we are trying to eventually create a movement."
It is a simple concept. A range of topics are posted onto the Facebook page and people vote which issue they would like to discuss. Two trained facilitators run the sessions. Topics include, 'Masculinity in modern day society', 'Role of religion in society', and this month's 'Is social media technology deteriorating human connection?'
"People have forgotten the concept of how to debate. It is so important for this to work that people leave their egos at the door. We want to find a way to share and empower and work out how to remove ego and keep integrity in check"

– Amirah Amin
The forum is open to anyone – community members, teachers, even government officials. The numbers are capped at 25 people to allow for real conversation.
"We come across so many taboos in society. In the Muslim community for example, there are taboos around talking about sex, drugs and even denial of mental health."
Amin says she is not worried about trolls, in fact she welcomes them, as it is an opportunity to redirect the conversation and allow for difference of opinion.
"People have forgotten the concept of how to debate. It is so important for this to work that people leave their egos at the door. We want to find a way to share and empower and work out how to remove ego and keep integrity in check", said Amin.
Participants in Taboo Talk sit in a circle. The middle of the circle of people is what is referred to as the 'Sanctuary'. The idea is that everyone places something of personal value into the sanctuary, to show they are invested and trust in this arena. "It is important that trust is created."
Amin is a qualified social worker, and first realised she wanted to promote safe, healthy conversations after an experience in her first job dealing with disengaged youth who were dealing with low literacy, unemployment and homelessness. She said she has learnt there is a responsibility to listen before talking.
"One person who was referred to me was a young child soldier from Lebanon. He was in trouble for throwing a chair in the classroom, which is obviously not okay. But this was a kid dealing with so much trauma and no one was listening to what he had been through. We used conversation and hip hop music, like Lupe Fiasco, to slowly find common ground. It taught me the importance of conversation."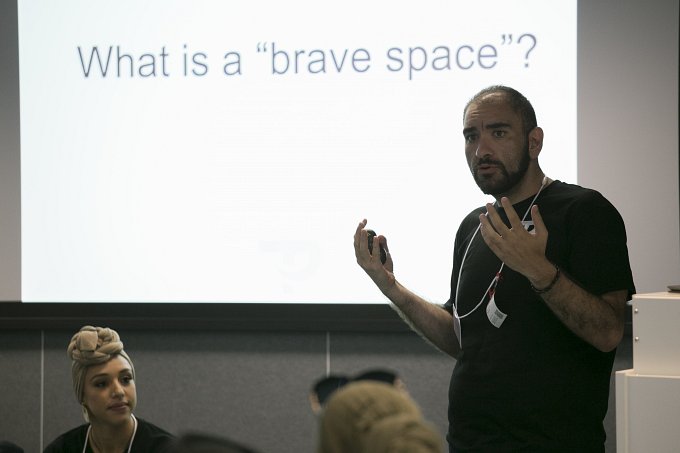 Trained social workers and facilitators mediate the sessions
The inspiration behind the form for Taboo Talk came to Amin from an unexpected night out while visiting South Chicago. Walking around Chicago's Hyde Park, she happened on a clothes store that converted into a 'sharing and talking space' at night, where a diverse group of strangers were sharing intimate, honest and explicit experiences around relationships. In the middle of this Amin knew she had found the model she had been looking for to launch her own concept in Sydney.
"We wanted a space where we are not preaching to the converted, it is not an expert panel, it is about identifying the strengths and expertise of every person. For example, almost everyone has had an experience dealing with racism in Australia, and not to discount academics, but we want this conversation 'owned' by the people."
An important part of these conversations is the fact that it is mediated by trained social workers and facilitators.
"We do check in and check out exercises with all the staff and participants. We do group debriefs, for example when we did a talk on domestic violence we had social workers present."
"I have met so many people from around the world that say to me, we need a Taboo Talk in my city. This is not a cultural issue: it's human. It's about connecting deeper and being part of a global community."
The Point
Taboo Talk is challenging online trolls and bringing back real-time conversations on some of the most awkward and dividing issues of our day.