Asian families hold centre stage
Who Speaks for Me? is a deeply moving co-production between the National Theatre of Parramatta and Performance 4a, a Sydney company dedicated to telling Asian-Australian stories.
It provided a snapshot of the struggles faced by Asian-Australians living in western Sydney and the challenging communication barriers that continue to confront them.
This is the fifth collaboration between co-directors William Yang and Annette Shun Wah and the production integrated Yang's slide projections, which added depth and heightened the impact of the monologues.
"I think the stories are incredibly important because we get carried away with headlines, facts and figures, sensationalism and politicking when it comes to refugees," Shun Wah told The Point Magazine.
The night unveiled the poignant and, at times, heart-wrenching stories of the three refugee families.
Puspa Lal Acharya and Chandra Acharya, a Bhutanese couple, told their story. After protesting against the Bhutanese clampdown on the teaching of the Nepali language and culture, Puspa found himself on a list of police targets and had to flee the country. Eventually, the family was reunited in a refugee camp in Nepal. They lived there for seventeen years before finally being allowed to migrate to Australia in 2010.
"To hear these people talk about their life experiences is incredibly moving and gives you the real human side of all those statistics and all those headlines," Shun Wah said.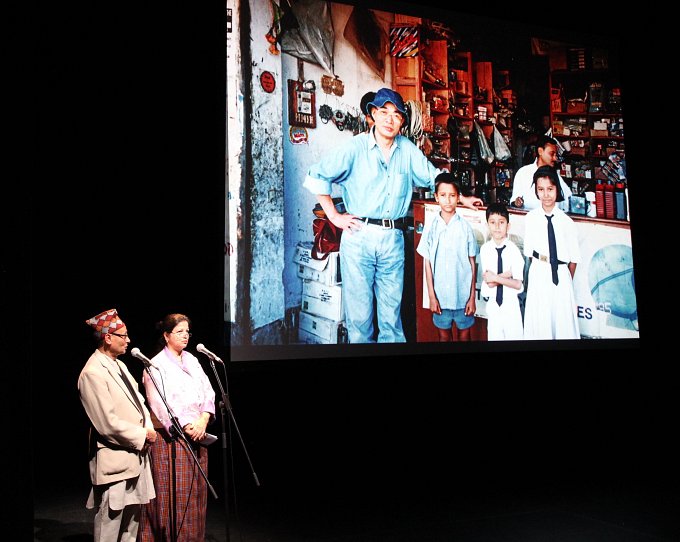 Acharya Family. Photo by Claire Cornu
Ly Heang Seang and Vanna Seang talked about growing up in Cambodia during the Khmer Rouge and Vietnamese invasion. Pregnant and exhausted, Ly Heang Seang fled Cambodia with her family and carried her young son Vanna all the way to the Thai border. Vanna was five when they eventually made it to Australia after spending years in various refugee camps.
One day at work in Australia, Ly's husband severely hurt his back, and Ly was forced to support her family of seven, despite knowing very little English. She knew possessing a driver's licence would help her situation and after 30 failed tests, she finally passed.
Vanna stood by her side on the stage and translated her story.
"I wanted to share her story. I'm currently working on a film that is influenced by her story – derived from true accounts and true events," Vanna told The Point Magazine.
"I heard her story growing up as a child but I thought it was normal. As I grew up and started seeing the world myself, I realised how incredible my mum is. For her to carry me and to not give up makes me feel like there is more meaning to my life.
"I was very reluctant initially to take part in this performance because it is such an intimate story of ours. But feeling vulnerable and exposed can be a good thing because it means you're growing.
"These are people who left their country for varying reasons. It was dangerous or they were driven out by political upheaval and they took very difficult or dangerous steps to find somewhere else.
"If there is a key message or something that has been reinforced for me, it is that just because you don't speak English, does not mean that you can't be a productive and contributing member of society."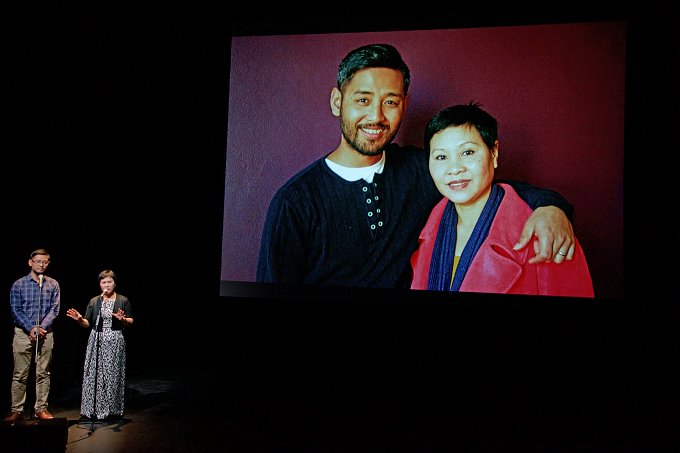 Vanna and Ly Seang
Sharing and translating their personal stories into English, the narrators offered the audience members an intimate glimpse into their own lives through the projection of family photographs selected by Yang.
"In a theatrical setting, you can really hone in on those stories as an audience member … you put yourself in their shoes and it becomes a very moving experience," Shun Wah said.
"Because of the translations, I think the audience themselves experienced the difficulty of not always getting the full picture due to language barriers.
"In a way, we wanted the audience to experience a little bit of that, as well as hearing the stories."
Despite the distinctive details of each person's life, the stories were connected by an undercurrent of resilience and strength.
The production explored how family values can bridge the borders between culture and language.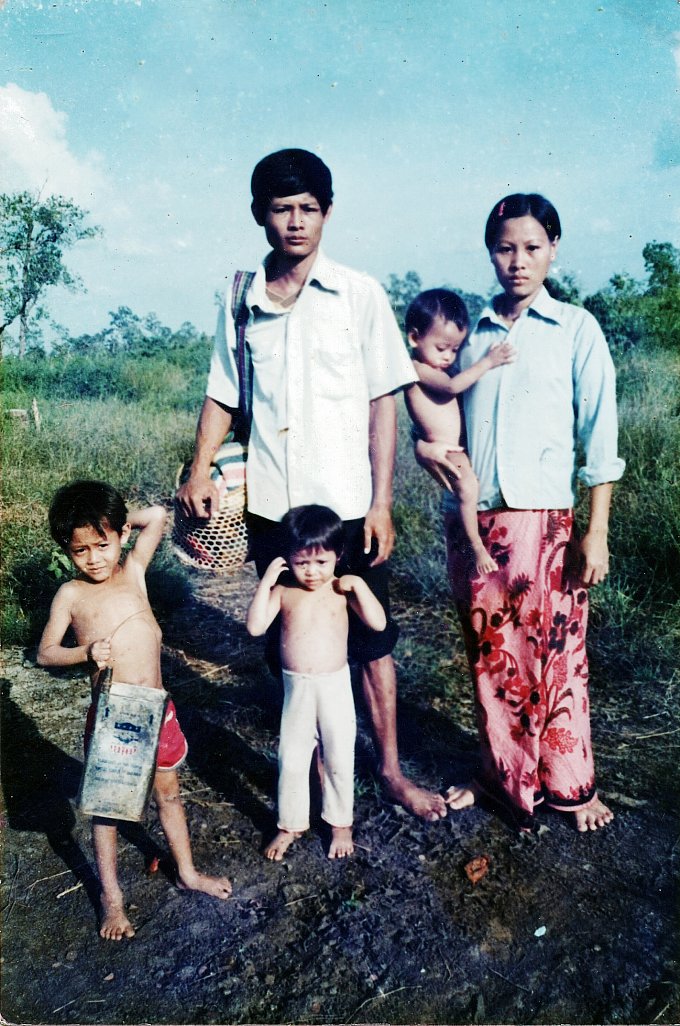 Seang family as refugees
Who Speaks For Me? National Theatre of Parramatta, Lennox Theatre October 12-15
The Point
Theatre shows a snapshot of the struggles faced by Asian-Australians living in western Sydney