Australian Iraqis unite for Karrada victims
"Ahmad had a clothing shop inside Karrada shopping centre. He was only 38 years old and he had a wife and two beautiful children, a girl and boy, five and six years old. He didn't die instantly, he was taken to hospital with serious injuries and his family put up a Facebook status asking for prayers and for a fast recovery. The second day he passed away."
This is Ahmad's story, as told to The Point Magazine by his best friend Akil Albahrani, an Australian Iraqi from Sydney.
Ahmad was one among the 281 lives lost when a suicide bomber attacked a popular shopping centre in Karrada, Baghdad, in one of the deadliest ISIS attacks in Iraq.
ISIS claimed responsibility for the attack, claiming the shopping centre as a strategic target against Shi'a Muslims. Thousands of shoppers in the predominantly Shiite region were preparing for Eid Al Fitr to mark the end of the holy month of Ramadan. ISIS and other extremist groups have explicitly targeted Shi'as and minority religious groups in Iraq.
The bombing has had a profound impact on the Iraqi Shi'a community in Australia. The community organised vigils across Australia to honour the victims of the attacks, including a vigil in Fairfield, Sydney, that attracted over 400 people.
Shia and Sunni parts of the community united in a bittersweet moment to pray Eid prayers, (including) at the site of the attack in Baghdad. This kind of solidarity is extraordinary and comforting"

– Zeena Al Badran
Sayed Mahdi Al Modaressi, a Sydney-based Islamic scholar and theology lecturer, said the Karrada bombing has not attracted the same level of sympathy from the broader Australian public when compared to ISIS attacks in other parts of the world. He feels the Shi'a community and the Iraqi community more broadly have been left to mourn alone.
"One thing that has been particularly hurtful is a phenomenon referred to as 'selective solidarity'." Al Modaressi told The Point Magazine.
"How can you sympathise with one tragedy and completely overlook a much bigger, and more devastating tragedy based on sectarian affiliations? Shouldn't the actions of this terror group be condemned irrespective of the sect or ethnicity of its innocent victims? If religious leaders are unable to overcome venomous sectarian narratives, what can we expect of their followers? And isn't this attitude precisely what fuels the hatred that defines the terror currently plaguing the Muslim world?"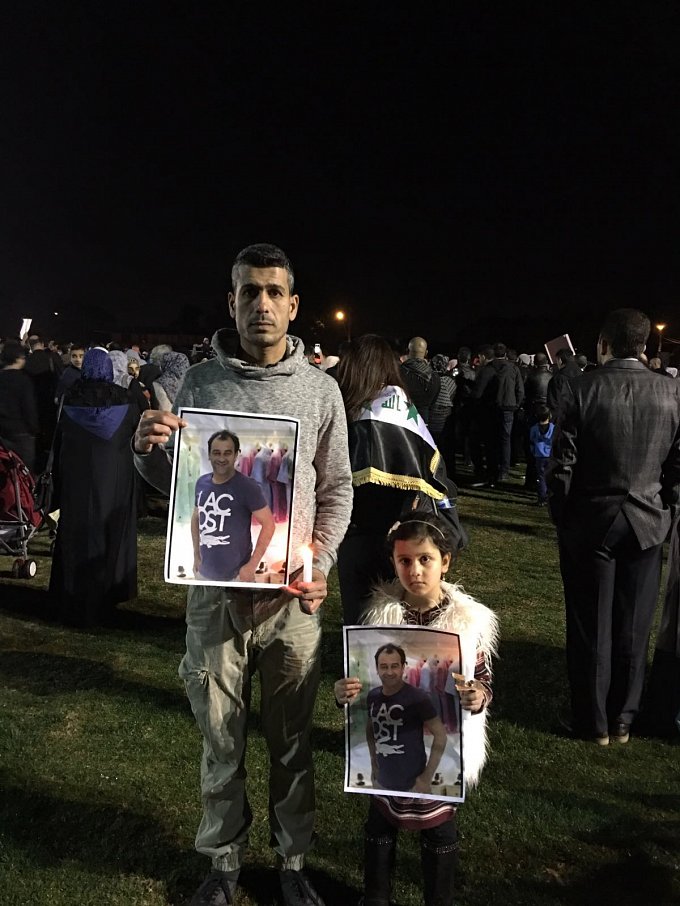 Akil Albahrani with his daughter holding images of the Karrada bombing victim Ahmad.
Sheikh Youssef Nabha, sheikh of Masjid Arrahman in Kingsgrove, Sydney, said it was an obligation on all religious leaders to speak out against all forms of terrorism.
"We think that the true Muslim empathises and sympathises with the oppressed, persecuted and aggrieved people anywhere they live. As Muslims we are obliged to condemn any act of terrorism that occurs in any part of the world because we condemn all acts of oppression and violence. Therefore, the key influential figures in Australia and around the world should act with a high level of moral, legal and religious responsibility when they talk about terrorism and crimes. Thus, some of these figures should relinquish in their speeches any sort of fanaticism, sectarianism and racism to deliver a discourse clear from hatred and intolerance."
Fatema Mohamed Ali, a university student and an active Shi'a community member, originally from Baghdad, feels there is a double standard when expressing sympathy to victims from the Shia community.
"I think this double standard was evident when Muslims paid tribute to the Paris and Brussels attack but could not express sympathy for those lost in Iraq. It's exhausting, struggling with Islamophobia on one side and then selective humanity and sometimes even disdain towards the Shi'a community on the other side. This is not to say that Sunnis, Christians and other believers weren't killed in Karrada – absolutely not. But as a Shi'a majority country, many non-Shi'a Muslims seemingly struggle to express solidarity with Shi'a, and even Iraq as a whole."
Al Modaressi said the entire Iraqi community mourning the Karrada attack together.
"Despite the rise in bombings in Iraq, which has been a fact of daily life for years, the attack on Karrada was of a different magnitude. It was shocking because of the horrendous nature of the attack, which came at the height of Eid festivities. The hardest part, other than coming to terms with the senselessness of the crime, is the ominous feeling that this won't be the last time we are being targeted," he said.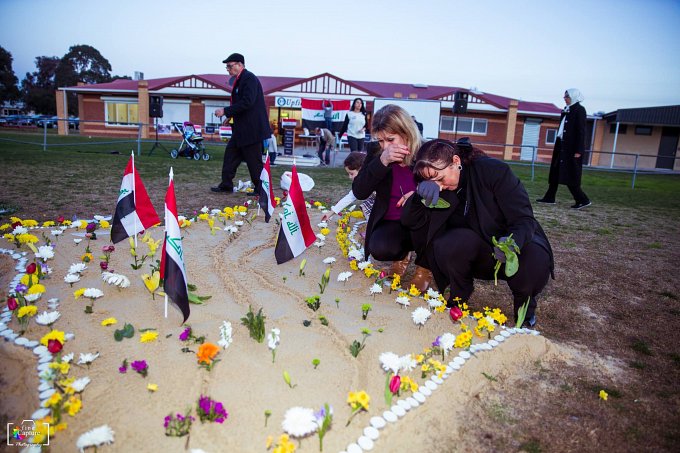 Iraqis in Melbourne gather at a local park to mourn the lives lost in the Karrada bombing.
Zeena Al Badran, an Iraqi born Australian resident who was in Baghdad at the time of the Karrada bombing, said that after the initial shock and fear, the response from Iraqis was 'normal'.
"It was almost as if nothing happened. What you need to understand is this: unless you are there, you won't know what people go through. They have so many check points at every traffic stop. They have security at every corner. When they hear a bomb, it's a placebo effect and no one is phased by it at all."
Ali said it will take time before the Iraqi community moves on from the attack, but believes unity is part of the healing process.
"When a tragedy like the Karrada attack happens in a community such as ours, it's remarkable how quickly everyone unites regardless of religion and ethnicity, to honour the victims, not in a way where an individual's identity is erased but in a way where Muslims read the Quran beside Christians who read the Bible at the site of the attack. Furthermore, Shia and Sunni parts of the community united in a bittersweet moment to pray Eid prayers, (including) at the site of the attack in Baghdad. This kind of solidarity is extraordinary and comforting," she said.
The Point
Iraqi community mourn the attack in Karrada, Baghdad, one of the deadliest ISIS attacks in Iraq, together.