After Orlando: reconciling faith and sexuality
The past month has seen a tragic spate of ISIS linked terrorist attacks around the world, including the Ataturk Istanbul airport in Turkey, Dhaka in Bangladesh, and the Karrada district in Baghdad, Iraq. Australians with ties to these regions will be grappling with the impacts for some time to come. But it was last month's mass shooting at Pulse Nightclub in Orlando, Florida, that generated the most heated response from the Australian public.
As a targeted attack on Lesbian, Gay, Bisexual, Trans, Intersex and Queer (LGBTIQ) people, that left 49 people killed and dozens of other seriously injured, the Orlando attack has provoked a wide reaching debate about religious attitudes towards homosexuality and turned a spotlight on intolerance in faith based institutions.
The Prime Minister, who has called for a national plebiscite on same-sex marriage, became embroiled in the debate after hosting his first iftar dinner during Ramadan. Media reports revealed that one of the PM's guests, National Imams Council President, Sheikh Shady Alsuleiman, had delivered sermons linking homosexuality to the spread of disease. In a statement responding to the issue, Sheikh Alsuleiman said that while Islam's positon on homosexuality is clear, he rejects any suggestion that he condones violence and discrimination against homosexuals.
"As an Australian and a Muslim, I unreservedly condemn the vilification and oppression of any group of people based on race, religion, gender, sexuality or any criteria for that matter. There is absolutely no place for homophobia or any sort of hatred or discrimination towards a person who identifies as LGBTIQ," Sheikh Alsuleiman said in his statement.
"As Christians we need to reflect seriously on the fact that even our prayers for the dead are being heard as hypocrisy in some ears."

– The Uniting Church in Australia
Following the Orlando attack, the Uniting Church in Australia Assembly released a media statement.
It read, "The horrific attack in Orlando has raised strong and legitimate feelings among the LGBTIQ community and others about the failure of the world's religions to love all human beings equally regardless of sexuality. As Christians we need to reflect seriously on the fact that even our prayers for the dead are being heard as hypocrisy in some ears."
Reverend Elenie Poulos, the National Director at Uniting Justice Australia, told The Point Magazine that the Uniting Church aims to be inclusive and embrace LGBTIQ people as full members of the community.
"A number of Uniting Church ministers are openly gay and our Church is enriched by their ministry. LGBTIQ ministers and church members have formed a national network called Uniting Network Australia and are active in representing their views to the rest of the Church."
The Uniting Church in Australia is the third largest Christian denomination in Australia, being surpassed in membership by Roman Catholics and Anglicans. In 1987 the Standing Committee for the Uniting Church decided that, "all baptised Christians belong in Christ's Church and are welcome at his table, regardless of their sexual orientation."
Despite the backlash from some members of the church, the ruling remains, making the Uniting Church one of the few major religious institutions in Australia that openly accepts homosexuality.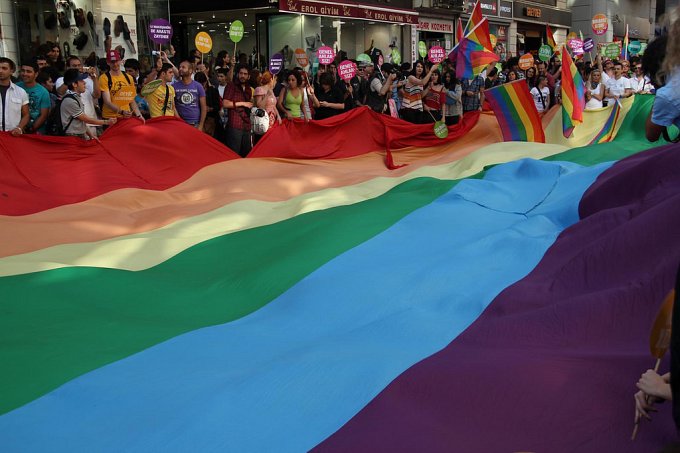 Photo sourced from Creative Commons
Shortly after the Orlando shooting, in another move of solidarity, a media statement was released and signed by over 35 individuals and organisations from the Australian Muslim community.
Lawyer and community advocate, Lydia Shelly was a signatory to the statement. She told The Point Magazine it was important for the LGBTIQ community to feel they're not alone.
"We need to look at creating cultural and institutional changes to create safe spaces for queer Muslims to learn about Islam and practice their faith without the barriers which can exist."
The statement read, "The LGBTQI community has a long history of experiencing prejudice, vilification and violence. Whilst investigations are still on foot, the mass shooting in Orlando was a targeted attack on that community. There is no justification for such homophobia. We reject the hatred and anger that leads to this kind of abhorrent violence."
Shelly said it was important for the Muslim community to also offer support and understand individuals within the community who identify as part of LGBQTI community and being Muslim.
"We need to know the position of homosexuality in Islam and the difference between that and homophobia. There is nothing in Islam which supports homophobia. We should provide opportunities for people to learn the sweetness of our faith and we should remember, that even though many Australians disagree on a multitude of issues, we are united in wanting Australia to remain a safe and cohesive society."
A NSW based LGBTIQ group published a response to the Muslim community's statement.
The statement read, "We recognise our communities do not agree on everything. But we do agree on a city, state and a country built on peace with justice that respects the rights, values and dignity of each individual, freedom of religion and expression free from prejudice, vilification and violence."
Reverand Elenie said although the issue of homosexuality was a controversial one, people who identify as belonging to the LGBTIQ community need support.
"The Uniting Church was born out of diversity when three churches united to form a single new church, and we continue our commitment to live together in peace and goodwill as people of faith, notwithstanding any differing views held."
Lauren Foy, co-convenor of the NSW Gay and Lesbian Lobby, told The Point Magazine that having a double identity can ostracise individuals even further.
"When you have intersectional identities competing with one another, it creates a space where they can be more marginalised and they're not sure where they might fit in and where you are welcome and in which identity you belong to. It creates a whole new layer of oppression."
She said the Orlando shooting has highlighted the importance of needing to deal with homophobia at a religious and political level.
"It's really important for us to be seen as humans with human lives and we are impacted just like anyone else. It's crucial that when we're looking to vote it's important to consider the impact of the polices on us," she said.
Andrew Jakubowicz a professor in sociology at the University of Technology told The Point Magazine young people who identify as homosexual and belong to a faith face a double bind,
He said, "For young people in religious communities where same-sex relations are publicly unacceptable the options for developing strong identities can be limited: they are placed in situations of extreme vulnerability."
Jakubowicz said, "traditional communities may turn the full force of social ostracism and disapproval on them, seeking to "drive out" the devils believed to cause same-sex attraction; mainstream adolescent sexual identity support services… may seek to have them abandon their traditions as the "cause" of their stress, yet provide no effective alternative community of support that still validates their religious beliefs or associations."
Thang Ngo, Managing Director of Identity Communications, said his identity isn't restricted to being gay or Buddhist.
"It's not an 'either' 'or'. Rather than feeling that I'm torn between my faith and sexuality, in this case it's more because Buddhism doesn't create a conflict between the two."
Ngo told The Point Magazine thathis temple is aware of his sexuality and he and his partner still attend.
"My partner and I are kind of attached in their eyes, we go to temple together. It might have been an oddity at first, but like all things, after a while you don't notice it."
Ngo said after a while his sexuality has become more accepted by his general community
"It's not like I run around the temple with a rainbow flag. My sexuality is me, like my (increasing) grey hairs. I don't go out of my way to tell people I'm gay. But the regulars and the monks are pretty clued up. They speak of us as a couple."
Foy said she hopes the future will see more tolerance toward LGBTI people across all religious institutions.
"Currently a lot of faith based organisation have groups that are pro-LGBTI and it's about finding the space and place within those institutions that are your allies no matter what they identify as. I hope eventually that could be embraced more by religious organisations."
Elenie told The Point Magazine that it was the responsibility of all those who believe in God to be accepting and respectful.
"The Uniting Church believes that Christians have a responsibility to care for all people, especially those who are marginalised in society. In our advocacy the Uniting Church has strongly and consistently opposed all forms of discrimination in society on the basis that every person is made in the image of God and is entitled to dignity, compassion and respect."
The Point
After Orlando: How religions are reconciling sexuality and spirituality.