Coffee with a Cop
Coffee with a Cop is an initiative that began two years ago run by Fairfield LAC in which local residents can come together monthly to informally talk with the police force about a range of issues ranging from local noise disruptions to building community cohesion and countering violent extremism.
Twenty-year-old Shamie Mutekede was walking through Fairfield's Neeta shopping centre when she saw the flyer advertising 'Coffee with a Cop.'
"I really wanted a coffee and so I thought while I was here I would go and check this out. I got my coffee and was going to leave but then I saw one of the police women smile and wave me over," said Mutekede.
Next to her one of the multicultural community liaison officers is sitting and asking her about her family while another officer is busy running and taking people's coffee orders on a notepad and making sure each person has a seat. Groups of Iraqi, Lebanese, and an older generation of Vietnamese women are sprawled out amongst the seats and balloons and the police are working their ways through crowd of about fifty people, stopping to talk.
"Back in Zimbabwe there are not very good associations with cops...this idea is interesting; it's nice to just have a conversation."

– Shamie Mutekede
"Back in Zimbabwe there are not very good associations with cops," said Mutekede.
"But even here walking down the street, they don't smile, so they seem like these big guys with power. This idea is interesting; it's nice to just have a conversation."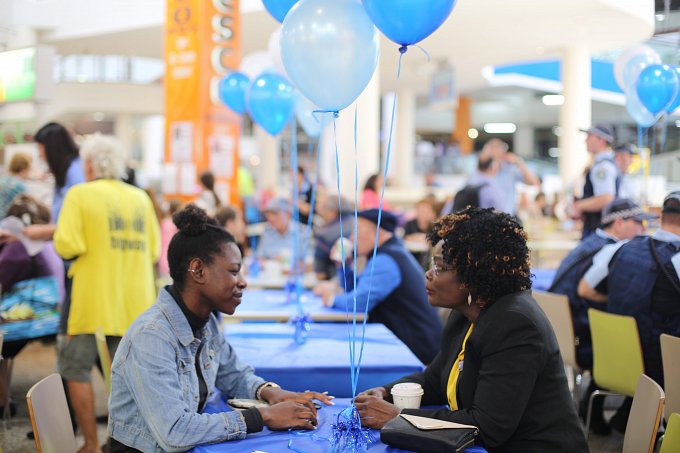 Shamie Mutekede with Fairfield Police Multicultural Community Liaison Officer Program Coordinator
Running for two years now as a monthly event, Coffee with a Cop is an initiative of the Fairfield police command that brings local residents together with local police officers to talk informally about a range of issues. Sergeant Gary Young said the program has been growing in popularity.
"We began by advertising through Facebook, flyers and word-of-mouth. It is really interesting seeing the people who return to these programs. We deal with a broad range of small and bigger issues, from complaints of noise disruptions, parking and housing issues to violence and cultural tensions. And I've noticed a lot of people who come have been victims of domestic violence and use this as a support group."
Fairfield Local Area Commander, Superintendant Peter Lennon, was responsible for first introducing the concept, which he adapted from the FBI in the USA. Lennon told The Point Magazine, the benefits of a local level community program such as this can have far reaching social impacts.
"We see this very much in the preventative model space when it comes to larger issues like countering violent extremism and domestic violence. Many of the participants come and talk to us and see we are not the enemy and pass this on to their networks in informal ways. It is a way for them to see the human side to us and for us to diffuse situations within the community."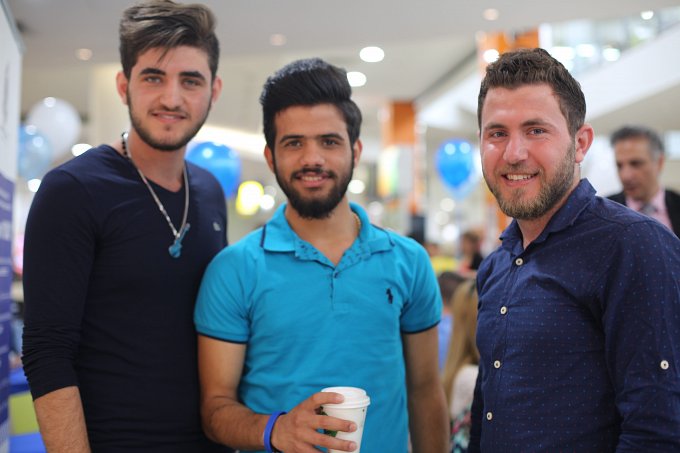 Young Iraqi menas from Settlement Services International taking a coffee break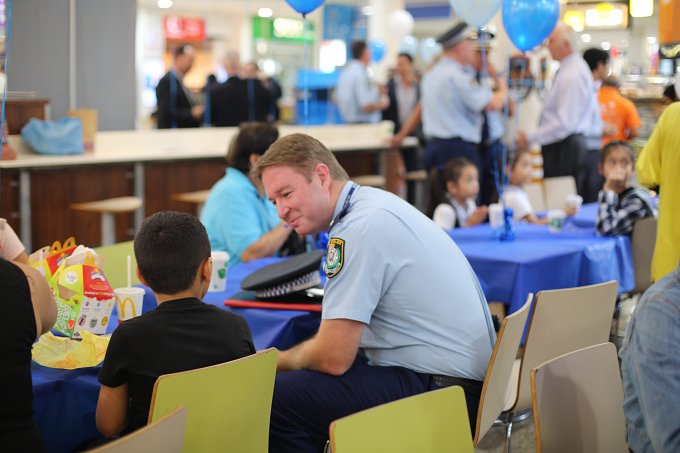 A cop chatting with a young boy in Fairfield Neeta Shopping Centre
Lennon says piloting the program in Fairfield made a lot of sense due the multicultural make up of the region. He said many migrants in the area arrive with prior bad experiences with police authorities.
"Fairfeld LGA (local government area) is one of the most multicultural communities and they can be scared of us, or due to cultural concerns, too embarrassed to speak out to us. For example, there is a big Iraqi community here. One month ago (they were) locked up in cells in their home country. Now we are asking them to talk with us, but they will still have their own nightmares to deal with. This is just a way to ask community leaders if we can start a new relationship."
According to ABS statistics from 2006-2011, the majority of recent arrivals to Fairfield come from Iraq, and those with a Iraqi background now constitute about 7.7 percent of the region's total population. The top three migrant language groups in Fairfield are Vietnamese, Assyrian and Arabic.
Fairfield Mayor, Frank Carbone, told The Point Magazine a program like this was especially important for breaking down barriers with many of the migrant communities in the area.
"A lot of the time when I come to these (events), people come to me and ask, where is my security guard? They are not used to having direct contact with officials, but it is our role to talk and engage."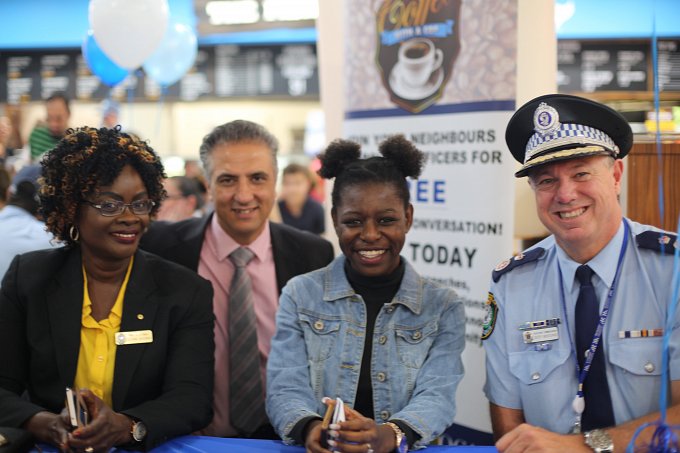 l-r: Fairfield Police Multicultural Community Liaison Officer Program Coordinator, Shamie Mutekede, Fairfield Mayor Frank Carbone, Deputy Commissioner Geoff McKechnie
"The benefit of having coffee has strong associations in Arabic cultures and the idea is 'my shout': I buy them a coffee and we can talk in an informal way about issues concerning the community from small to serious. I see this as a way to intercept issues before they blow up and lead to arrests," said Supt. Lennon.
The program has since expanded to the Gold Coast, Perth and other suburbs in New South Wales.
"When you think about it, in terms of costs for broad programs being done to curb violence, the cost of this about $150 for some coffee. And the value in mixing with the community is countless," Lennon said.
The Point
A cup of coffee is building community relations and conversations with the police in Fairfield