Fairfield High cafe serves hope, resilience and Iraqi chai
Sometimes a story takes an unexpected detour. Widyan Fares visited Fairfield High School in Western Sydney to cover a story on the Parent Cafe, a community hub where mums and dads are leading the way in resettling refugees from Iraq's war-torn regions. Having felt the impacts of war themselves, bomb threats are something these parents understand only too well, as Widyan discovered when an evacuation alert suddenly interrupted her interview for this story.
What started out as a small idea to help newly arrived refugee families resettle and learn English, has recently been labelled by the United Nations Human Rights Commission as best international practice for refugee resettlement. And it's happening right in Sydney's backyard.
The Parent Cafe, based out of Fairfield High School in Western Sydney, is a hub for newly arrived refugees and migrants, predominantly from Iraq. The project is teaching them new skills and helping them establish new friendships and connections to the wider Australian community.
Haitham Jaju is the team leader of the Fairfield High School Parent Cafe.The former Iraqi diplomat came to Australia as a refugee with his family after war broke out in Iraq. He has put his diplomatic skills to good use in his new job, building and creating networks between the school, the community, and the government.
"One time we were working in our office and a rocket hit our building in Baghdad. When it hit we checked on each other and asked if everyone was ok. After a couple of minutes we went back to work as if nothing happened."

– Parent Cafe worker Aylin Yokhanna
While preparing traditional Iraqi tea - filling up the kettle with water and adding loose tea leaves in a smaller pot as he cooks it over steam – Jaju tells The Point Magazine about the origins of the Parent Cafe initiative.
"I saw a need in the community, many Iraqis were arriving to Australia and had no idea where to start and what to do and how to connect to different services. So we developed the idea of the Parent Cafe as a space where all newly arrived migrants can come together and simply talk and be heard."
Jaju says the Parent Cafe is an opportunity for newly arrived migrants to learn, engage and heal.
"We run seminars and training courses on legal issues, family, law and the police, cooking classes, sewing, music, Australian politics and history and of course employment seeking. Really, this is all about helping them land on their feet and providing them with a support system to be able to do that."
Janeet Dawoud migrated from Baghdad in 2009 and says the Parent Cafe has helped her deal with trauma and the loneliness she experienced when she first arrived in Australia.
"I use to work in the office of electrical services in Baghdad, everyday our office was targeted by kidnappers. We were so close to danger. In 2007 I was in a government car and we were going to one of the offices, we were stopped by three kidnappers one of them pulled out our colleague and shot him dead in front of my eyes."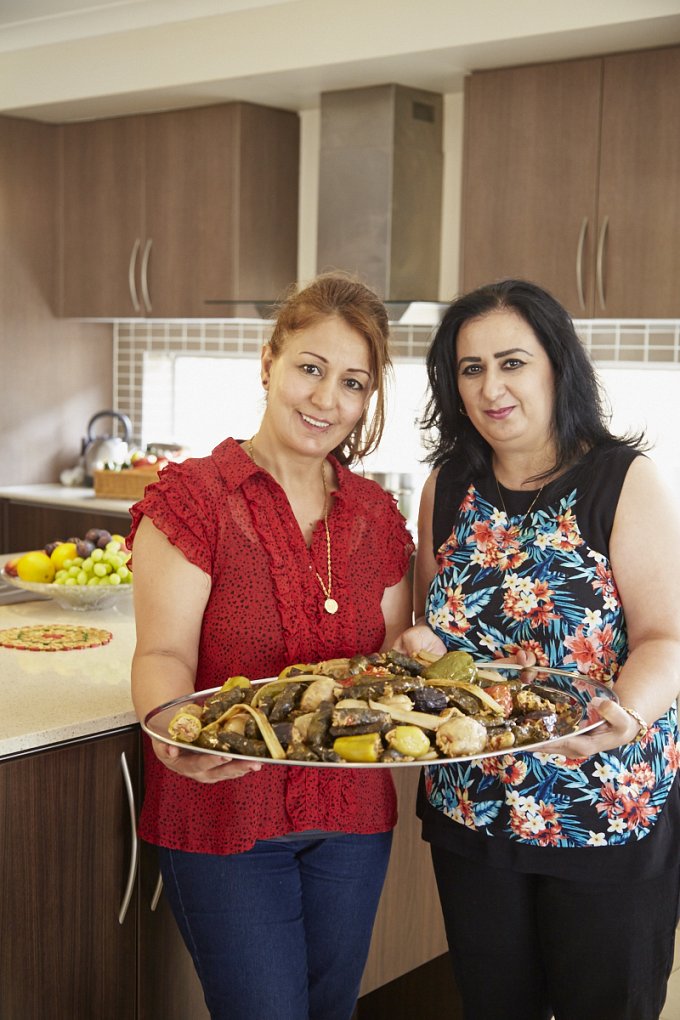 Elham Slewa (left) and Janeet Dawoud (right)
Dawoud pauses and takes a deep breath. "When I came to Australia I was lost, I had no sense of self... the Parent Cafe changed that for me."
Dawoud believes that learning new skills is the best thing she can do to become a better Australian and participate in society,
"Being part of the Parent Cafe was a perfect opportunity for me to make new friends and to learn about Australia and what's expected of me. I've taken a computing course, sewing and learned so much about Australian politics and the law. We even visited Parliament House in Canberra. I've never been to Parliament House not even in Iraq."
Dawoud tried yoga as part of the health and fitness program at the Parent Cafe.
"The instructor told us to remember certain years and points in our lives as a way to relax by recounting positive memories. Every year she told us to remember I would think back to the death of a family member. Half the group ended up crying. The instructor soon realised that we didn't have many memories that didn't involve the loss of loved ones. That's the reality of war."
Elham Slewa is also originally from Iraq, and has two teenage boys.
"I was going through depression when we came to Australia. It was a foreign land with foreign people and I felt like I didn't belong."
After taking a computer course, Slewa began to feel hope and a sense of belonging.
"After my computer course finished, I decided to challenge myself and I took the swimming class that was being offered by the program. I'm no expert at swimming, but I sure am better then I was when I first came here. Little things like that mean so much to us who have migrated. It helps us belong, it makes us feel part of this country which is our permanent home now."
The Parent Cafe has expanded its programs to include a large community garden growing vegetables such as tomatoes, cabbages and eggplants.
The garden allows parents and students to gain qualifications in horticulture as well as supplying food for the cafe.
The Parent Cafe has also set up a small-scale catering business, where the parents cook traditional Iraq dishes. This is a growing enterprise, according to Jaju.
"We were catering events of about 30 people, now we cater to 1500 people in the one event. It's no longer just a small grassroots initiative, the parents have owned it and made it into what it is and that's part of the empowering process."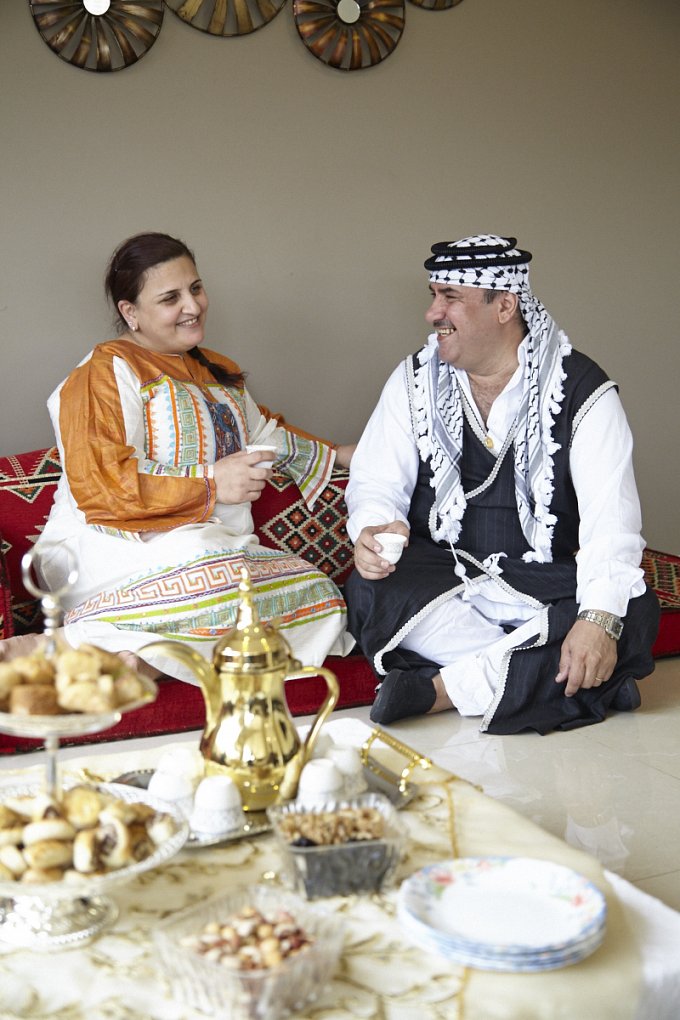 Haitham (right) with a Parent Cafe participant.
A lesson in resilience
As we are about to take our second round of Iraqi tea and sweet biscuits, we are suddenly interrupted by the Fairfield High security team ordering us to evacuate in response to a bomb threat.
Teenager Vincent Lauton was arrested in France this month for triggering bomb threats in hundreds of schools around the world, including Australia. Whatever his motivations, he failed to phase the parents of Fairfield High.
"Oh this brings back memories from Baghdad," says Aylin Yokhanna, a Multicultural Services worker, as we make our way to the evacuation area.
Everyone laughs, shaking their heads.
"One time we were working in our office and a rocket hit our building in Baghdad. When it hit we checked on each other and asked if everyone was ok. After a couple of minutes we went back to work as if nothing happened."
Yokhanna laughs at the absurdity of the story and reality.
"It's crazy but this is second nature to us. These people want to scare you and stop you from going about your daily lives."
Jaju agrees. "We could easily train the school and students on how to respond in case of a bomb, we're experts on dealing with bombs and threats."
He sighs and looks out at the students waiting for police to inspect the school grounds.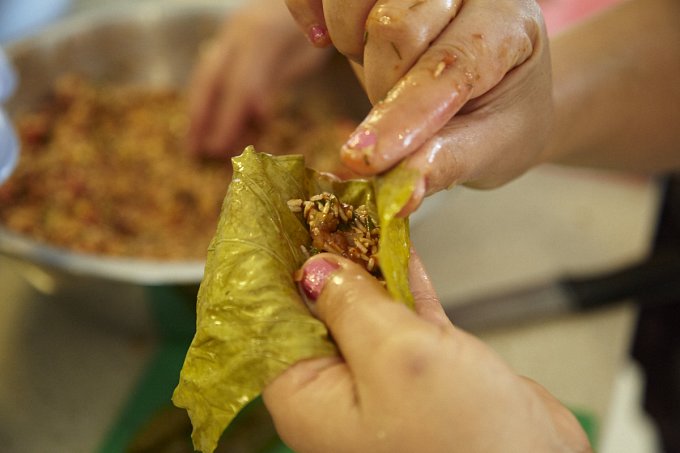 Wrapping 'dolma', stuffed vine leaves.
Back to business
Deena Yako, another community worker at the Parent Cafe, said the cafe will help welcome the newly arrived refugees arriving as part of the Federal Government's additional intake of 12,000 refugees from Iraq and Syria.
"We are hoping to include some of them in our program and help them resettle. Some will be from an Iraqi background others will not and so just like any other refugee they will be in need of the services we offer and we're excited to help them with that process."
Jaju has big dreams for the future of the Parent Cafe.
"I obviously feel like our work is not yet done. We would love for the program to be expanded nationally because the Iraqi community is just one of the many communities who can benefit from this program."
"This initiative is not just a grassroots project, it's become a safe space for many migrants who grieve and heal through the relationships they build and we can't afford to lose that as a community," adds Yako.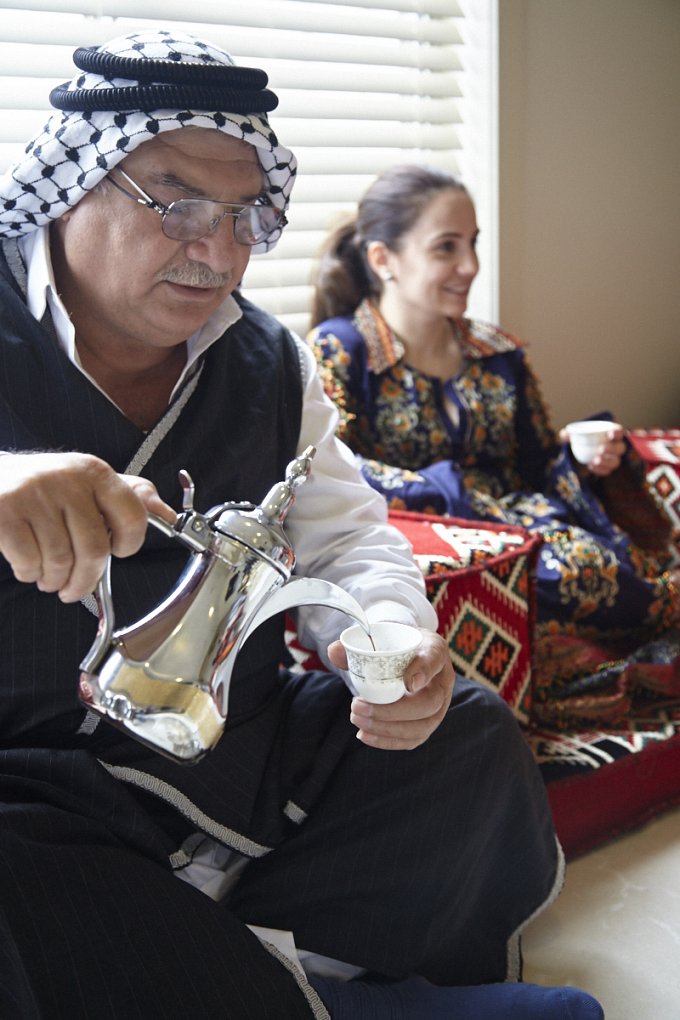 Serving traditional Iraqi coffee 'Gahwa'.
The Point
What started out as a small idea to help newly arrived refugee families resettle and learn English, has recently been labelled as best international practice for refugee resettlement.
References
Photo credit: Lisa Cross.